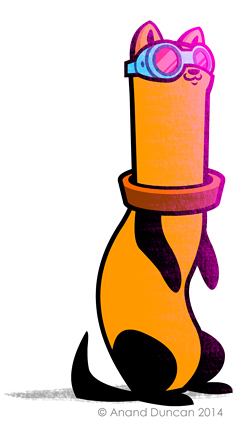 Gamma Girls!
A cartoon show with all the best things:  smart girls, silly best friends, outer space,  science, ferrets, computers, and snappy.
The teen rocket scientists Pi and Beta are amusingly unconventional and zany as they venture through space problem solving and goofing around.
Anand Duncan is the creator and artist behind Gamma Girls. She loves to draw and work in animation, so she decided to make her own animated cartoon show.
Real life best friends Anand Duncan and Simone Gutierrez voice Pi and Beta,  and also double as the writing team. They like to brew up a big pot of funny stuff that makes them laugh to tears.
The talented Andy Hentz created the Gamma Girls theme song, a perfect tune to end each episode.